You've heard it before, "your business should be on Facebook".
As as a business owner, I'm sure you've gone the whole 9 yards by creating a Facebook business page, posting daily, only to see little to no results in regards to new clients.
Maybe you're thinking "We tried Facebook and got little from it", or, "it was a waste of money and it didn't work".
Well I'm here to show you how Facebook worked for one of our dental clients and how it can work for your business as well.
More First Time Patients
Dr. Michelson is one of my SEO clients and I reached out to him regarding the potential that Facebook ads has to offer.
I was already successfully running campaigns for other clients and thought his practice would be a good fit for what I was already doing on the Facebook ads platform.
During a brief conversation with him I found out that Facebook ads was something already on his radar…awesome!
He knew he should be using it for his business but didn't have the time to learn the platform, implement the ad campaign or train his staff to run it.
The Offer
We had a short strategy session and came up with some offers that made sense for his practice. The main offer we would promote would be $99 initial exam, cleaning, x-rays and teeth whitening for new patients.
I know you may be thinking…."That's the same old offer everyone else is running on Groupon and living social"!
Well….yeah! These types of offers have proven to convert and drive new patients through the door. Why reinvent the wheel!?
Also, you're not losing out on 50% of the generated revenue by utilizing Groupon or livingSocial. So that's money back in your pocket.
The Funnel
The sales funnel is crucial to having a successful campaign. You would be surprised at how many dental practices do not have a proper sales funnel set up.
Sales funnels not only help with presenting and converting your offers but also with tracking and collecting data that can be used to tweak your campaign for success.
Here is the funnel I implemented for Dr. Michelson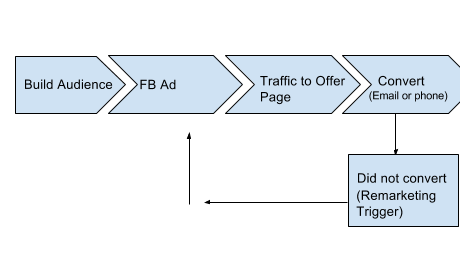 As you can see, it's a basic funnel but it helped drive over 15 new patient appointments totaling over $1,500 in 10 days.
The Offer page
One part to the sales funnel is the special offer landing page. You'll want to create a separate landing page for each special offer you run.
The one mistake I often see is paid ads that lead to the home page of a dental practice with weak or no calls to action. This often results in little conversions and wasteful ad spend.
The landing page I'm about to show you helped in generating 15 new patient appointments in 10 days while only spending $200 in ads!
Click on the image below, have a look, and come back to this page.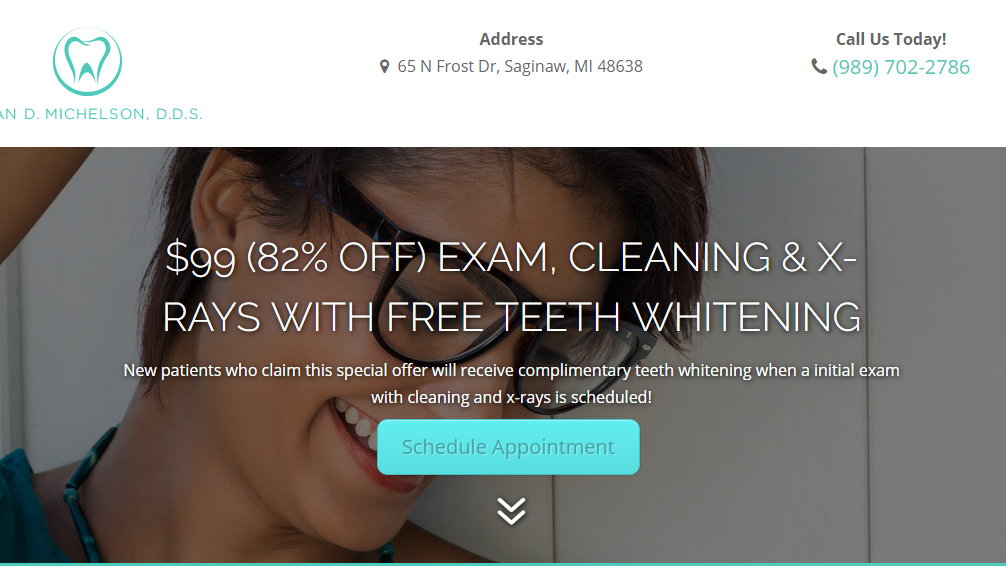 One of the first things you may notice is that this page has no links to any other page on the website. It only gives you a few options once you are on it.
Call the phone number
Fill out the appointment form
Leave/exit the page
I limited the options for a reason.
A lot of dental practices talk about how long they have been in business and the history of the practice. There is nothing wrong with that but there's one thing you have to keep in mind.
People browsing these offer landing pages are often thinking "What's in it for me?"
The page was built so users can focus on the offer and take action on it. They can learn about how the offer would benefit them in conjunction with several calls to action, enticing them to schedule their appointment.
This page also limits their options with certain actions we want them to take. We want them to either proceed and redeem the offer or exit and leave the page, that's it!
Building Trust & Credibility
I wanted the landing page to have the trust factor so I incorporated a testimonial section. Testimonials can go a long way, especially if they come from credible authority sites like yelp.com, yp.com, facebook etc.
It's a big help when it comes to converting a prospect into a satisfied customer.
Keep it short
Asking for as few details as possible actually helps with conversion rates. You don't want to burden the prospect with a long form and risk loosing them in the process.
The form I created had only the following:
Name
Email
Desired Date
Phone Number
That's it! No need to complicate this process, just keep it simple for better conversion rates.
Facebook Ads
Now that the offer, landing page and conversion tracking are in place, it's time to move on to creating the ads and building the audience.
Facebook ads work a little different than other ad platforms. Other platforms like Google adwords allow you to market your business by bidding on keyword search terms.
Facebook uses big data and allows you to build an audience you think would be ideal for your offer or business. You then bid on displaying your offer to the audience you've created.
Facebook has over 1.71 BILLION active users. Not only that but they also partner with some of the largest data providers around. With this combination, you can rest assured that your target audience is on Facebook!
The only problem is how do you get in front of them?
Using the power of big data to build an audience
Once the special offer was concrete, it was time to move on to building an audience for Dr. Michelson's specific offer.
A lot of people get this part wrong, they often create blanket audiences in the hopes of gaining new patients by targeting everyone within 10 miles of a zip code.
This is the fastest way to waste your ad spend so don't do it!
As a healthcare provider, you already have access to some great data to start off with.
Items like:
Address
Household income
Insurance provider
Occupation
Children etc.
Use this information as a base when creating your audience.
In addition to age and location, I also added a few interests relevant to the offer. I started adding people who were interested in teeth whitening or cosmetic dentistry (see image below).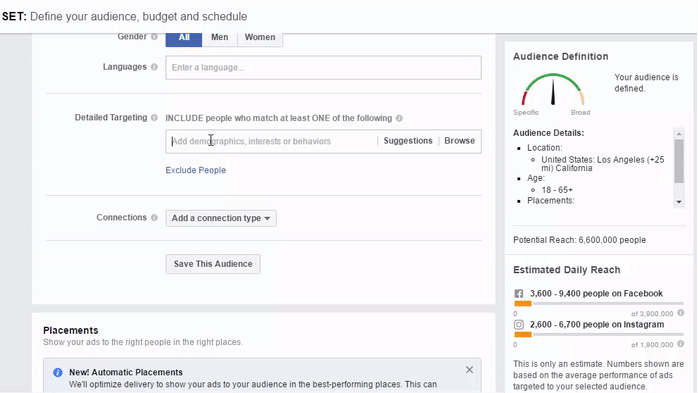 Not only that but I also targeted people based on behavior. I added people who have purchased oral care items (see image below).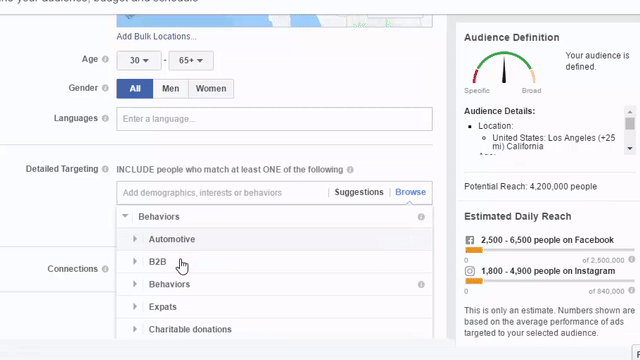 You can even take it a step further and add people who are interested in their insurance providers (Delta dental, Aetna, Humana, Care Credit Etc.)
Are you starting to see the power in paid Facebook advertising?
The Ad
After using demographics, interests and behaviors to build the audience, it was time to create the ad.
What not to do
Don't create an ad that just says "Teeth whitening special" along with a stock photo and phone number. Don't do it, it's ineffective and you'll just waste money.
What to do
Create an ad that clearly explains the offer along with the benefits the prospect would receive if they choose to redeem the offer.
Here is the ad that I created for the targeted audience I built for the campaign. Notice how it describes the benefits along with clearly stating what the offer is.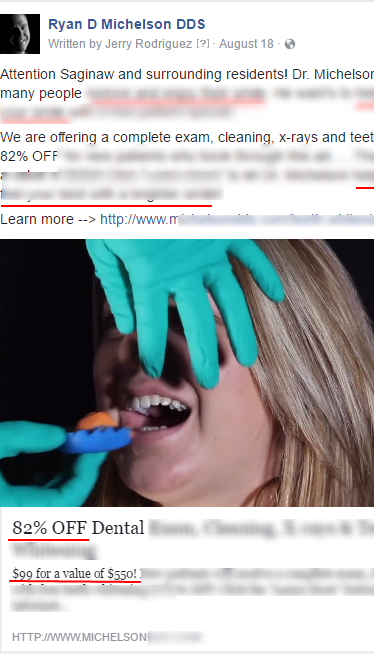 Use Video in Your Ad
The screenshot above is of a video ad. Video ads tend to convert better than image ads because they do a great job of getting the users attention.
You can also add text and highlights to your video to help reinforce how your offer can benefit potential clients.
The Results
I ran the campaign for 13 days and the results were great! Within 10 days of the campaign period it generated 15 new patient appointments online and 3 via phone calls. It also brought in $1,500 in revenue while only spending $200 in ad spend.
As you can see from the Google Analytics screenshot below, the campaign generated 15 new patient appointments via Facebook ads.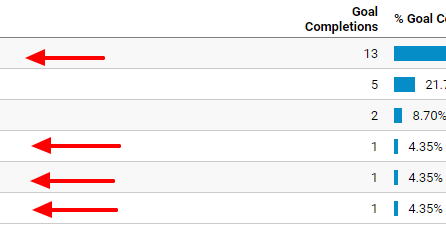 And here is a screenshot of the same campaign in the Facebook ads manager.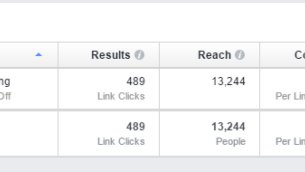 In summary
Keep it simple! Come up with an offer, audience, and funnel to promote your business.
Feel free to use this case study as a template for your practice. No need to reinvent the wheel, use whats already working.
Want help getting results like this for your business?
Schedule a complimentary 45 minute strategy session with me where I talk about what's working and what's not with your marketing.
I'll also share with you what's currently working for my clients and how you can implement the same strategies.
The call is 100% free and no strings attached.
About the author
Jerry has been creating winning digital marketing campaigns for local businesses since 2011. Through research and data, Jerry is able to effectively market his clients businesses by cutting wasteful ad spend while increasing ROI.
Schedule Your Strategy Session Today!